Hits: 115
26 June 2019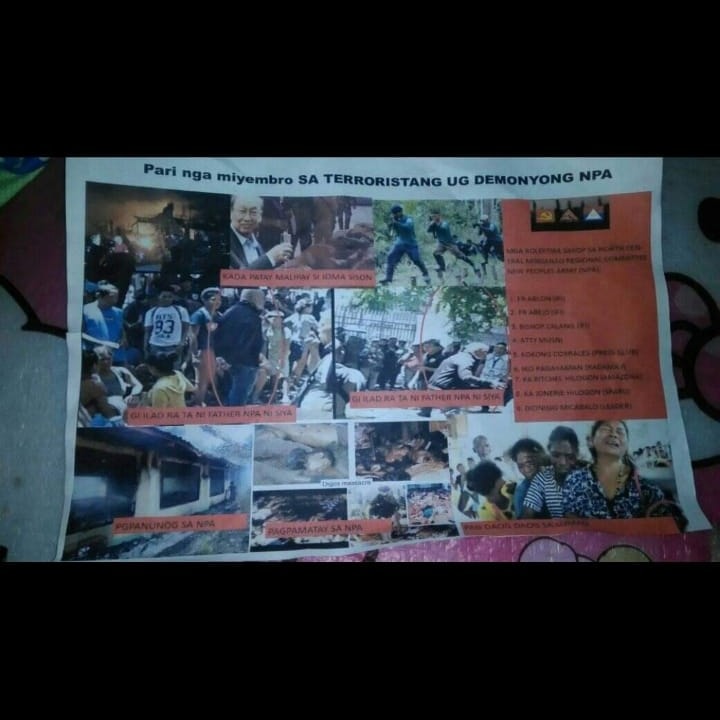 Cagayan de Oro City-based journalist Cong Corrales was again the subject of a malicious campaign aimed at branding human rights activists, church workers, and other members of civic organizations as supporters of the New People's Army.
The name of Corrales and eigth others appeared on the side of a photo collage printed on bond-sized sticker papers.
Copies of the propaganda material were found in two separate locations–one was found sticking at the fence of yhe residence of lawyer Beverly Musni.
At least two others were also found plastered near where lumad evacuees had sought shelter beside a church in barangay Macasandig, this city.
No one was able to witness who were responsible in both instances. Musni as well as two lumad evacuees said the materials must have been plastered sometime between 2 am and 4am today, June 26.
A black streamer tagging lumad leaders as NPA supporters was also found hanging at almost the same spot a day earlier, they said.
This is the second time this year in which the name of Corrales figured on a red-tagging incident.
Earlier this year, Corrales, as well as his wife and son, were similarly accused by unidentified individuals as NPA- supporters.
NUJP Hotlines:
09453503455
09398475177