Hits: 17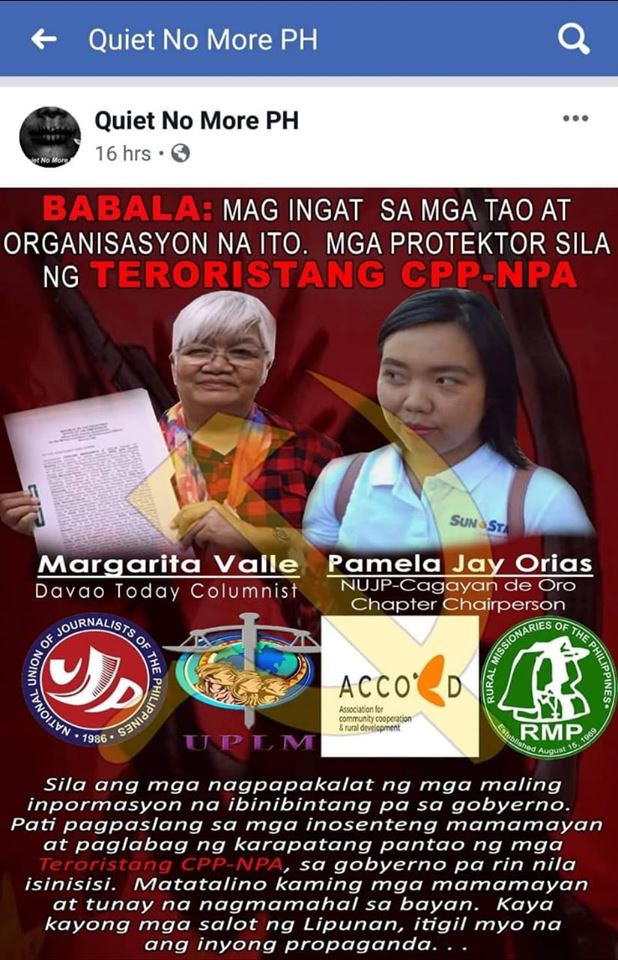 July 12, 2019
A Facebook community page which calls itself Quiet No More PH is accusing the head of the National Union of Journalists of the Philippines' (NUJP) Cagayan de Oro City chapter and a Davao City columnist as 'supporters' and 'protectors' of the Communist Party of the Philippines (CPP) and the party's armed wing, the New People's Army (NPA).
The post, which carries photographs of both Valle and Orias, was uploaded forty four minutes past midnight of Thursday (12:44 AM, July 12, 2019).
The post accuses Pamela Jay Orias, NUJP-Cagayan de Oro City chairperson, and Margarita Valle of Davao Today of supposedly being responsible for spreading propaganda against the government.
The post also names three other organizations aside from the NUJP–the Union of People's Lawyers in Mindanao (UPLM), the Association for Community Cooperation and Rural Development (ACCORD), and the Rural Missionaries of the Philippines (RMP)– as 'communist supporters and protectors.'
Valle was arrested by police on June 9, 2019 at Laguindingan Airport in Misamis Oriental and was held incommunicado, before being eventually released, for twelve hours. The police later admitted that the arrest was a case of 'mistaken identity.'
Orias, on the other hand, has publicly spoken on press freedom issues in her capacity as local head of the NUJP.
The NUJP has repeatedly rebuffed claims that it is a communist 'front' organization.
The NUJP is an organization of Filipino journalists and media workers established in 1986 to bat for the safety and welfare of all members of the Philippine press. It is also a strong advocate of press freedom and freedom of expression.
FOR REFERENCE:
JB R. DEVEZA
NUJP Western Mindanao Safety Office
09398475177 / 09453503455