Hits: 109108
Davao City-based opinion writer Margarita Valle was arrested at the Laguindingan Airport in Laguindingan, Misamis Oriental, while on her way back home Sunday morning, June 9. A columnist of SunStar Davao and Davao Today, Valle was in Cagayan de Oro to conduct a...
The National Union of Journalist in the Philippines (NUJP) - Davao Chapter strongly condemns the arrest and calls for the immediate surface of journalist Margarita "Ging" Valle, a columnist of Davaotoday.com. Valle remains incommunicado after she was nabbed on...
3 June 2019 There can be no excuse for Erwin Tulfo's utter lack of ethics and scruples in publicly insulting Secretary Rolando Bautista simply for not being able to immediately answer his demand for an interview. No, this has nothing to do with Bautista, for Tulfo's...
28 May 2019 The National Union of Journalists of the Philippines hails our colleagues in Cagayan de Oro for their show of unity against unrelenting efforts to suppress freedom of the press and of expression. When unidentified persons draped a black streamer naming...
14 May 2019Once again, the foul-mouthed misogynist who is the leader of our nation turns to personal insults when he will not or, most likely, cannot offer a credible explanation to his badly concocted and fictitious accusations against critics. Asked by reporters in...
May 8, 2019 The NUJP refuses to dignify such a piece of unadulterated crap as the new "matrix" presented by Sal Panelo apparently expands on the earlier oust-Duterte canard and now purports to link more people and groups like us to Rodel Jayme. At best, this is yet...
Keep safe during coverage.
Download our Philippine Journalist Safety Guide.
Established in 2005 in partnership with the International Federation of Journalists, the NUJP Media Safety Office monitors all forms of attacks against the media–from threats to attacks, intimidation and killings. It also keeps track of the legal status of journalist killings, and cases seeking to intimidate journalists, such as criminal libel.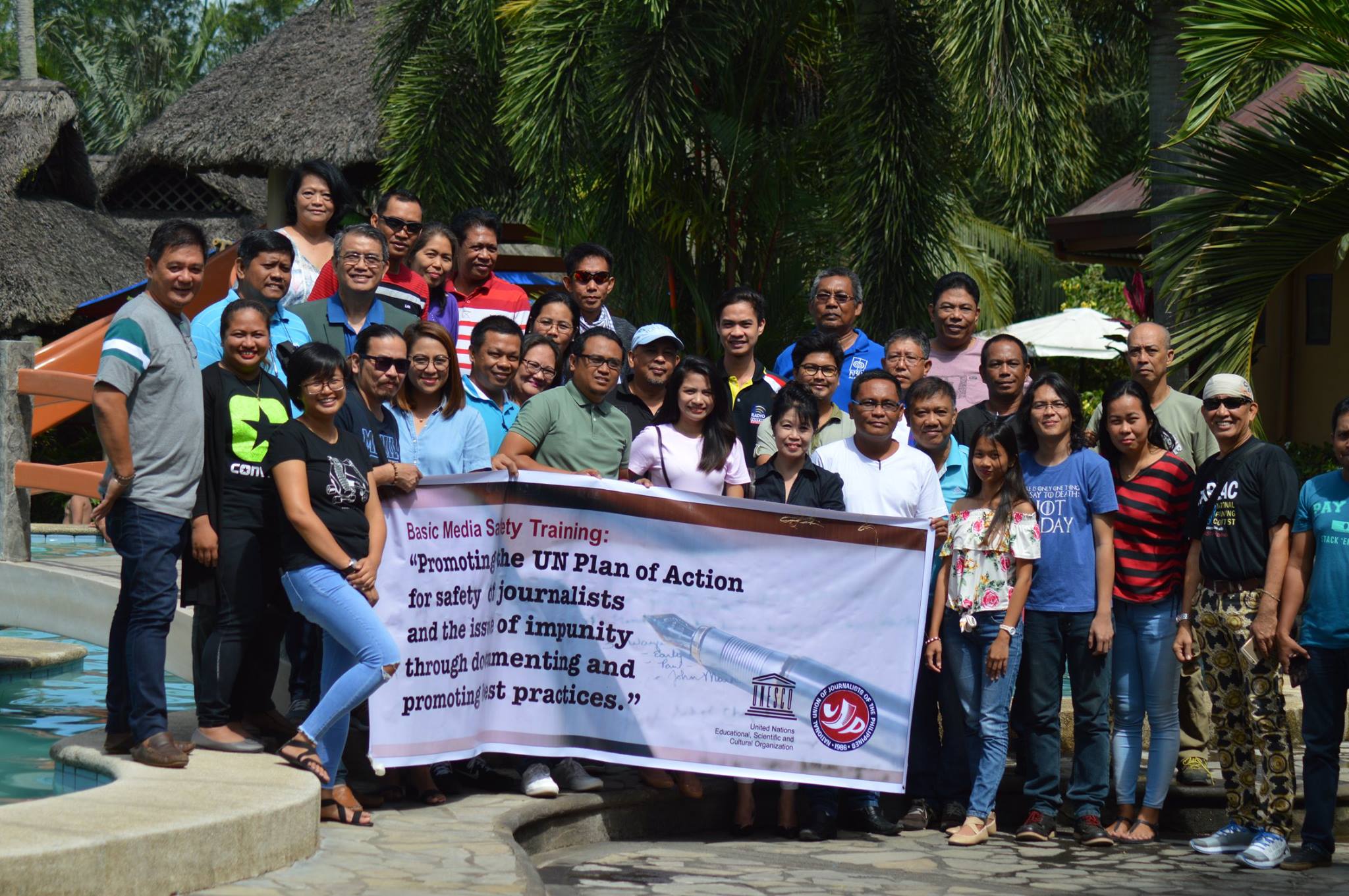 Stay up to date with NUJP
Support and donate
Support our fight for press freedom and better working conditions for Filipino journalists and media workers
Join Our Newsletter
Get the latest news and updates from NUJP straight to your inbox
Got an inquiry or request for interview?
Or call or text our hotline at +639175155991 
And we will attend to your communication as soon as possible.